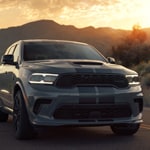 The Dodge Durango here at Lagers Incorporated is among the top SUVs in the lineup that comes equipped with hi-tech fuel efficiency features. The 5.7-liter HEMI V8 engine available for the Dodge Durango comes standard with fuel saver technology. It works by blocking four cylinders and allowing the engine to run on the remaining four. This technology allows you to get up to 22 mpg on the highway.
This Variable Valve Timing technology is a standard feature on the HEMI V8 engine coupled with an eight-speed automatic transmission for easier handling and swift shifting. This engine option gives you power without compromising the efficiency of the Dodge Durango.
Additionally, the Dodge Durango comes with an Eco mode that helps to improve the fuel efficiency of the Dodge when driving in normal conditions in Saint Peter, MN. The HEMI V8 engine will use in-built sensors to activate this mode when the vehicle is in an ideal condition that doesn't require a great amount of fuel.