On a cold, February morning in 1965, two brothers, Gerald J. Lager and William F. Lager, opened Lager's Chrysler Plymouth, International Truck.  The dealership was located on the corner of Highway 169 and Highway 99 East in Saint Peter, MN, which is currently the home of Jake's Stadium Pizza, the St. Peter Woolen Mill, and The Pulse Fitness. 
Lager's Inc. survived the 1965 flood that crested at 29.07 feet above the Minnesota River, causing roughly 8,000 people to evacuate their homes.  With the rising waters, Bill and Gerry considered moving their entire inventory to higher ground as a precaution to the flooding.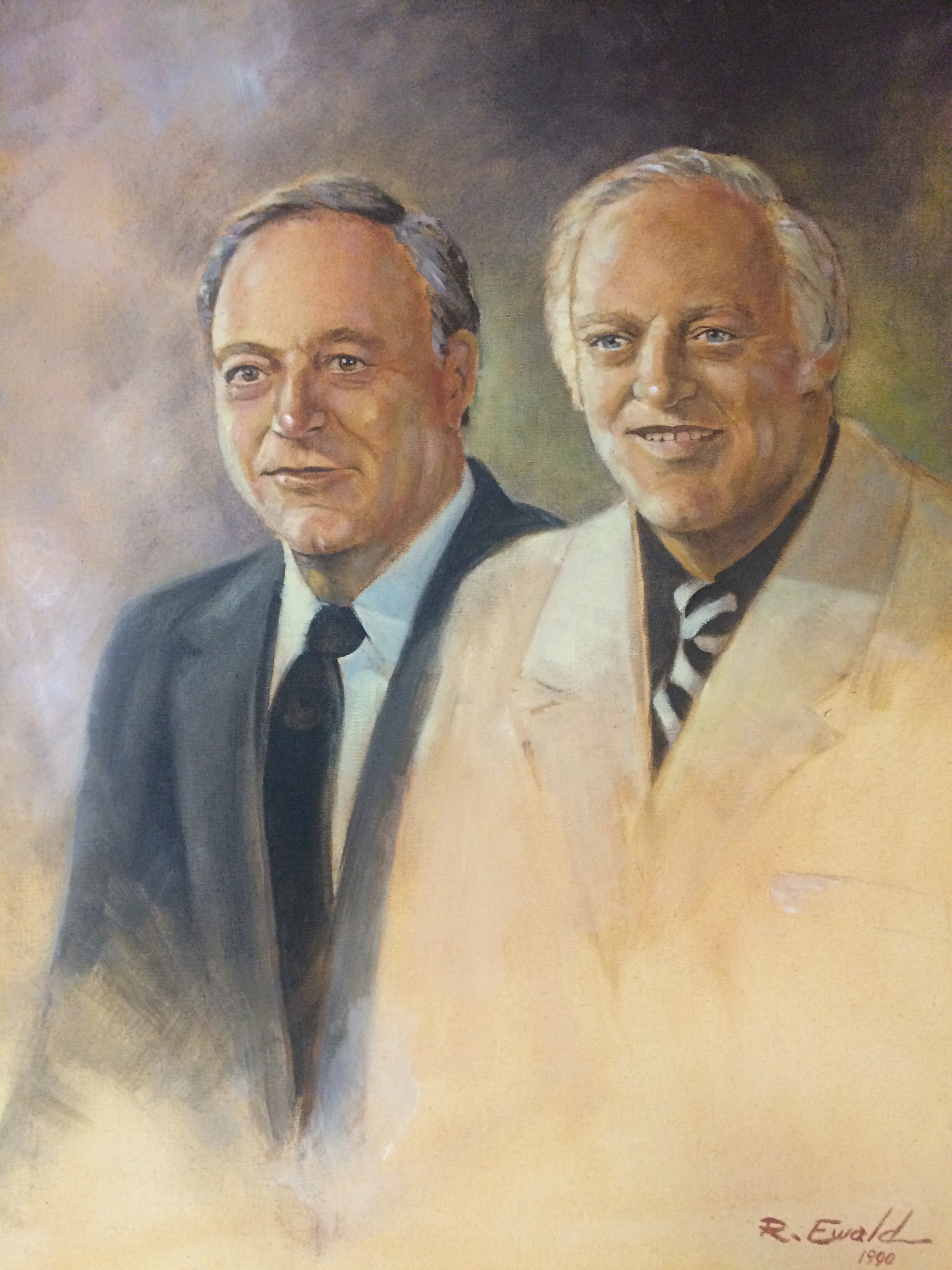 In 1969, the brothers moved Lager's Inc. to their new and current location on Old North Minnesota Avenue in Saint Peter, MNÂ 
Over the years, Bill and Gerry Lager grew their business together and added additional operations such as a separate alignment shop, a separate heavy-duty truck and service operation, a car wash facility, and a gas station.  In 1974, the Lager Brothers started their own leasing company, rightfully named Lager's Leasing Co. 
An opportunity for expansion arose when Dalton Motors in Mankato closed its doors for good in September of 1977.  The brothers saw the opportunity and took their business to another level by opening Lager's of Mankato as a Chrysler Plymouth Dealership in Mankato, MN.  Bill Lager continued to operate Lager's Inc. from the St. Peter front, while Gerry Lager took on the role of managing the new business in Mankato. 
The Lager Brothers expanded once again to include the Dodge and Truck Franchises in both the St. Peter and Mankato operations.  With the purchase of the Dodge & Truck Franchises from Beutz Motors in Mankato, it made both the St. Peter and Mankato stores complete as certified Chrysler, Plymouth, and Dodge dealers of the Chrysler Corporation in July of 1980.
Lager's Inc. obtained the Buick and GMC Truck franchise lines of the General Motors Corporation from Randolph Buick GMC in St. Peter in 1982.  As the businesses grew, Lager's Inc. also acquired the Pontiac franchise from Rheaume Pontiac in Le Sueur when they closed down in 1991. 
Business was booming, and in 1985 Lager's of Mankato expanded its building over 5,000 sq. ft. to accommodate for three additional service bays, a fully automatic car wash and car polisher, a reconditioning center, separate Used Car Sales and Rental offices, a drive through service write-up area, and expanded sales display lot.  These additions now host Lager's of Mankato's Service Department, Parts Department, and Lager's Used Car Factory.
On March 26th of 1987, the Lager Brothers added the AMC, Jeep, Renault franchise from American Motor Sales Corporation to their Mankato location.  On March 31st Bill and Gerry also expanded Lager's Leasing Co. by starting and operating an U-Save Auto Rental of America franchise in both Mankato and St. Peter.  With Chrysler Corporations buyout of American Motor Sales Corporation on August 5th of 1987, Chrysler established the Jeep/Eagle division of the Chrysler Corporation. 
1989 was a tough year for the Lager Family with the passing of William F. (Bill) Lager.  Bill served as a Dealer Principal and partner to his brother Gerry Lager for 25 years.  During that year, Gerald Lager extended his partnership on to his son Franklin A. "Kip" Lager, and the father-son duo attained management and ownership of Lager's Inc. in St. Peter.
In 1992, the Pontiac franchise was added to the St. Peter dealership to make Lager's of St. Peter a Pontiac, Buick, and GMC dealer. During that year Gerry and his wife Gloria retired from the business leaving it in the hands of their son Kip Lager.
On March 29th 1998, an F3 tornado swept through the Minnesota River Valley, wreaking havoc on the City of St. Peter, the Gustavus Adolphus College campus, and surrounding areas.  In total, seven counties in southern Minnesota were declared federal disaster area, with an estimate of $6.5 million in damages to rural areas.  Lager's Inc. survived the tornado in St. Peter, and prospered by building a new car wash and quick lube facility across the street from Lager's of Mankato.  Lager's Car Wash & Quick Lube opened in August of 1998 on Bassett Drive, where is currently stands today.  The expansion included an employee parking area, display area, rental office, and service stalls.
In 1998, Chrysler merged with German-based Daimler-Benz AG forming the DamilerChrysler Corp generally known as DCX.  The Eagle brand was retired shortly after Chrysler's merger, and the Jeep brand became a stand-alone division in 1998. On July 6th, 1998 Lager's of St. Peter added the Jeep franchise to its existing structure.
By the year 2001, the Plymouth brand was discontinued.
September of 2007 marked the 30th Anniversary for Lager's Chrysler World in Mankato.  Over the past thirty years, Lager's has achieved several manufacturer-sponsored awards including the Award for Excellence, which is Chrysler's highest level of honor, and Lager's was recognized as a Five Star Dealership. 
In 2008, Lager's of Mankato was ranked #13 on the Denver BC Dealer Ranking for placing in the top 10% of dealers.  As of 2008, Lager's of Mankato attained a five star rating 7 of the last 8 years. 
February 18th, 2015 marks the 50th Anniversary of the establishment of the Lager's of St. Peter dealership. 
Kip Lager is the current President of Lager's Inc. including Lager's of St. Peter, Lager's of Mankato, and Lager's Car Wash and Quick Lube.  Due to the dedication and efforts of Bill and Gerry Lager, and all the past and present employees of both Lager dealerships, the Lager name has maintained a quality reputation in St. Peter, Mankato, and the surrounding communities for nearly fifty years.